The Horizon 2020 project "Nature Based Solutions for re-naturing cities: knowledge diffusion and decision support platform through new collaborative models (Nature4Cities)" has been approved in June 2016. The project started November 2016 and will last until May 2021. The project has a duration of 4 years and will be coordinated by NOBATEK. Nature4Cities focuses on mapping urban challenges caused by climate change, such as heat stress, flooding and storm damage. Furthermore, interactive implementation models will be developed to meet these challenge with Nature Based Solutions (NBS). The project will specifically focus on a collective learning process that engages and empowers all stakeholders. Interactive modules for stakeholder engagement will be designed and new financial, business and governance models for NBS implementations will be developed.
Duneworks is engaged in several work packages and responsible for social science research on the role of end-users in NBS implementation models, using Environmental Justice and Placemaking as analytical frameworks. The ambition is to develop strategies for active participation and collective value realization.
Key partners in this project are: ENSA Nantes (FR) Eurecat (ES), Tecnalia (ES), ACCIONA (ES), CARTIF (ES), D'APPOLONIA (IT), LIST (LU) also include 17 other partners in the project, including municipalities, universities, developers and SMEs.
Publications
Poster for ECCA conference in May 2019
Report "Step-by-step guide for co-production and co-creation of Nature-based Solutions".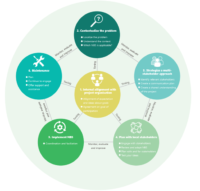 See all the N4C publications here
More information
Sylvia Breukers
sylvia.breukers[at]duneworks.nl
Co-funded by the European Union under the Horizon 2020 Programme (H2020)